Description
The Otterbine Aqua Star impresses many with its dramatic two tiered effect and is often specified into hotels, resorts and shopping centers to create the perfect backdrop.​
First impressions do matter, and that is why we designed the Otterbine 10 HP Giant Fountain line. This product is often specified by landscape architects for premier locations whenever a dramatic focus to a water feature is desired. Resorts, amusement parks, and corporate headquarters around the world select these systems based on their beauty, versatility and quality.
Product Features
Unique Launching System:
Wheeled launching system eliminates the need for cranes during installation in most applications.
Adjustable Float:
Float ballasts allow you to adjust for level flotation and float visibility in the water.
Corrosion Resistant:
Able to operate in brackish conditions with 316 st/st upgrade.
Comprehensive Warranty:
All-inclusive 2-year warranty or extended 3-year warranty with Sub-Monitor motor control option, on unit, cable and power control center*.
Safety Listed & Protected:
Package electrically safety tested and listed with ETL, and ETL-C, conforming to UL standards; and carries CE certification.
Shallow Operating Depth:
Horizontal platform allows operation in 40in or 1m of water.
Complete Package:
Includes unit, fiberglass power control center* and cable.
Optional Accessories:
Fountain Glo High Voltage and LED light sets, wind controls, soft start, and Sub-monitor motor controls for increased motor life.
Product Specifications: Aqua Star
:
Unit shipped complete with unit, cable and Power Control Center. 50Hz applications do not receive a Power Control Center. Unit average weight is between 900-950 lbs or 410-435 kg. Minimum operating depth is 40in or 1m. Spray performance and pumping rates are approximate and may vary due to voltage, elevation and relative humidity.
Unit & Float Construction
The Giant Fountains have been redesigned to allow for shallower operating depths and simpler installation without sacrificing pattern definition or height. Engineered by expert craftsman to provide a high quality, reliable product our Giant Fountain line incorporates a Grundfos pump and Franklin 3450/2875 RPM motor and multi-staged stainless steel pump so you can expect years of dependable service.
Corrosion Resistant Materials:
Components are manufactured of stainless steel, brass or thermoplastics. For applications with severe brackish or salt water conditions upgrade to our 316 st/st option.
Improved Handling:
Unique wheeled launching system upgraded with larger wheels to improve mobility, eliminating the need for hoists and cranes during installation in most applications.
Adjustable Float:
Once installed the high-density polyethylene float can easily be adjusted to minimize float visibility in the water.
For more information on this product's features, please see the illustration.
Product Illustration
Special polyethylene float allows for easy height adjustment to make it less visible in the water.
High quality Grundfos pump and Franklin 3450/2875 RPM motor ensure years of corrosion-resistant, trouble-free run time and no maintenance.
Large center wheels assist intallation and removal eliminating the need for cranes and hoists in most applications.
Removable stainless steel intake screen allows for cleaning in the water and protects pump from debris.
Dimensions: 10HP &15HP = 100in (254cm) x 74in (188cm) x 40in (102cm); 25HP = 120in (305cm) x 90in (229cm) x 40in (102cm), with and without lights. Complete package is safety tested, approved and listed with ETL and ETL-C. Products for the European Union are also safety tested, approved and carry CE certification. Minimum operating depth is 40in or 1m, with and without lights.
Product Installation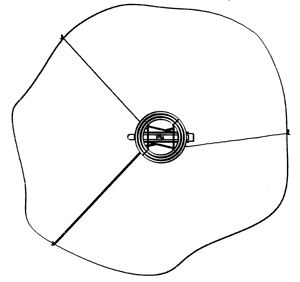 Installation of the Giant Fountain will require partial assembly of the unit and the services of a certified electrician. Tools and materials required can include: a shovel (to bury/trench cable,) conduit, stainless steel cables, boat, crane (depending on landscaping), rebar or duckbill anchors, 1/2in ratchet wrench, 9/16in wrench and socket set. Complete installation instructions will be provided with the delivery of the product.
To receive a Giant Fountain the facility should be equipped with a loading dock and fork lift. Average weight of shipment will range between 900-950lbs or 410-435kg.
Basic Installation Guidelines:
Unit Assembly: Unit will be shipped partially assembled with only minor assembly required for float assembly and mounting float to unit. Depending on horsepower and pattern selection some additional assembly may be required. While typical packaging has the unit crated, it may arrive in several cartons depending on options selected and cable lengths. All hardware is provided. Estimated time to assemble unit is 3 hours.
PCC Installation: Qualified electrician will need to be on-site to install power control center (PCC is standard for all domestic/60Hz applications.)
Power Cable: Power cable should be buried or trenched in conduit per local codes, and run at least 3ft or 1m out into the pond/basin. If a cable quick-disconnect is not ordered with the Giant Fountain, electrician/installer will be required to splice cable to unit.
Launch Unit into Water: With the four rugged polyethylene wheels attached to the frame, the Giant Fountain can be rolled or wrenched along the ground and launched into the water. Using a boat launch or manmade ramp can ease this process. While a crane or hoist can simplify the installation process, many successful installations and retrievals have been done using a ramp/truck/liftgate method. Ponds with steep banks will require a crane.
Adjust Flotation: Various float sections have marine plugs that allow you to adjust buoyancy and float level if necessary.
Secure into Place: The unit features a 3-point mooring system with eye bolts provided on the frame. Otterbine recommends the use of 3/16in diameter stainless steel cables for mooring lines. Mooring the unit can often be done from the shoreline, but a boat will assist in the process.
Allow 4-6 hours, with a two to three man crew to install, set the unit in the water and adjust buoyancy.
Warranty:
Otterbine offers an exceptional two year warranty on the Giant Fountain line, but can be extended to three years with the purchase of the Sub-Monitor motor control option. This warranty extends to the complete package including the unit, cable and power control center.
Warranty and service work can be performed by more than 100 factory trained and certified Otterbine Service Centers found worldwide, or by Otterbine directly. A copy of the warranty statement for this product can be found within the Installation Manual.
Maintenance:
No routine maintenance is required. Unit maintenance is very simple as the motor is a high speed water lubricated motor and there will be no need to change oil or for annual maintenance. When the screen becomes clogged it will be necessary to clean it and can be cleaned with a wire bristle brush. All units have a basket type screen that can be easily removed and cleaned while the fountain is in place.
Winterization:
Giant Fountains must be removed in climates that experience cold winters and frozen waters before lakes freeze over. The motor and pump must be stored in a heated area that stays above 32o Fahrenheit or 0o Celsius.