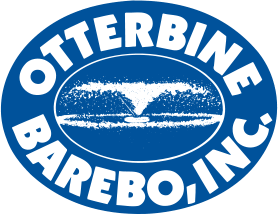 Otterbine makes the best aerators and fountains in the world.
Otterbine Aerating Fountains
There are more to these systems than just a pretty pattern. Engineered and tested to provide oxygen to ponds and lakes for improved water quality – get the added benefit of an attractive display! Choose from any of the patterns and get a 5 year warranty and years of satisfaction.
Fractional Series Aerating Fountain & Mixer
Whether you're looking for aeration or an attractive display, this all-in-one fountain & circulator is the ideal solution for small ponds less than three quarters of an acre in size. Easily convert between four aerating fountain patterns and a horizontal circulator in just minutes!
Deluxe All-In-One Fountain Circulator
With our deluxe small pond fountain and circulator packages, you get the best of both worlds! Aeration benefits combined with RGBW or LED lighting options will enhance the natural beauty of your waterway. This solution is ideal for small ponds less than a 3/4 acre in size! Easily convert between four aerating fountain patterns and a horizontal circulator in minutes! Packages come complete with a control panel and cable quick disconnect (QDC) for easy maintenance and seasonal storage.
This underwater 'bubbler' type diffused aeration system is designed to aerate, de-stratify and circulate water without disturbing the natural surroundings of the lake environment. Although this product can be used in most water depths, it is best for ponds and lakes with depths of 8ft or 2.4m or greater, the Air Flo has been independently tested, and out performs similar systems circulation and induced oxygen transfer capabilities by more than 20%. In addition, this system offers quiet operation and versatility in virtually any configuration.
Industrial Pond Aerators & Circulators (1-5HP)
These systems provide unique solutions to managing water quality, from low profile patterns to horizontal circulators and are used in a variety of applications. Our experience in industrial applications is obvious in the performance and results delivered by these surface and sub-surface aeration systems.
Our Giant Fountain line is popular among landscape architects when a dramatic focus is desired for a water feature. Shallow operating depth combined with other engineered features – the Giant Fountain is often chosen for it's beauty, versatility, ease of handling, and quality.